La Suite Boutique Hotel in the Small Island of Procida, Italy is Opening on May 1st with a Larger Restaurant, a Great Spa and a Blackpool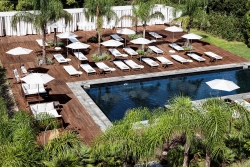 Procida, Italy, April 06, 2018 –(PR.com)– Opened in 2011 from the conservative renovation of a 18th century historical palace, La Suite Boutique Hotel is a place where tranquility and design are combined to make the guests' stay an authentic experience.
Everything in the hotel, from the atmosphere to the furniture, from the location to the lifestyle, are combined to offer guests a relaxing experience. Guests can close their eyes and imagine being in a 5.000 square meter private garden where no noise but only the jasmine fragrance can reach them, and where they can find the perfect balance between "mind and body."
La Suite Boutique Hotel offers also a large restaurant, a black pool and a Spa.
La Suite's "Bougainville Restaurant" is located in the organic garden with its indoor/outdoor spaces and it is the ideal location to either to taste the aromas and the flavors of the typical Mediterranean cuisine or to drink a glass of both their homemade wine and their selection of the best Italian wines together with a selection of champagne and sparkling wines.
Surrounded by huge Indonesian beds and white beach umbrellas among the palm trees of the garden, the Black Pool has been made out of an ancient basin that collected the rainwater used once to water the garden. The special design, which combines with the surrounding nature, inspires an endless relaxation.
La Suite Boutique Hotel "hides," in the basement, a special Spa entirely made from lava stone. It is the true heart of the hotel with a surface of 400 square meter entirely dedicated to wellness; it is a shelter for body and mind, a refined and elegant environment that favors the psycho-physical balance surrounded by aromas, relaxing water games and melodies.
Every room distinguishes from the others for the location and the square footage and are furnished with original pieces of design and art which render guests' stay an unforgettable one.
LaSuite's young and smiling staff will make sure guests have a relaxing stay on the island of Procida.
LaSuite Boutique Hotel is opening on May 1st, 2018 for the coming summer season. Guests need only to book and the LaSuite staff will think about the rest.
Contact Information:
LaSuite Boutique Hotel
Luciana Careri
+39 081 810 1564
Contact via Email
www.lasuiteresort.com
https://www.facebook.com/www.lasuiteresort.it
Read the full story here: https://www.pr.com/press-release/749315
Press Release Distributed by PR.com