Arb Studios, the Developer of Tiki Kart 3D (Top App Jan. 2012), Has Finally Released Its Sequel Tiki Kart Island for iOS and Android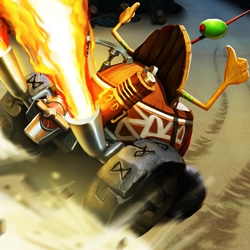 Orlando, FL, April 12, 2018 –(PR.com)– After many stops, restarts, and almost being cancelled due to the large scope it has finally released with every one of its target goals. It features a 60 plus level story driven campaign, online battle arena, and a track creator. The app has launched on both iOS and Android but has plans for console, AR, and VR.
"I wouldn't settle on cutting back features, I was determined on building the largest scaling kart racing game on mobile. With new server technology we can deliver large scale content even complete new campaigns server side without taking much space or bandwidth, we have included a lot of our tools in the game for users to create their own content they can publish and we polished the Online Battle Arena publicly demoed at Otronicon three years ago," said Aaron Boucher.
https://www.facebook.com/TikiKart3d/
About ARB Studios and the Technology behind it
ARB Studios is an interactive technology development company dedicated to the creation of next generation cross-platform 3D games, proprietary c++ game engine and server technologies. ARB Studios is headquartered in Orlando, Florida. For more information about ARB Studios, please visit www.arbstudios.com.
Trademarks belong to their respective owners. All Rights reserved.
Contacts
Arb Studios – President / Chief Engine Architect
Aaron Boucher
[email protected]
407-346-1806
Contact Information:
Arb Studios LLC
Aaron Boucher
407-346-1806
Contact via Email
www.arbstudios.com
Read the full story here: https://www.pr.com/press-release/750490
Press Release Distributed by PR.com