Queensway Presents eMenuTouch – Software System, Covering FDA Legislation Ingredient and Nutrition Fact Requirements, Filtering Menus in a Second and More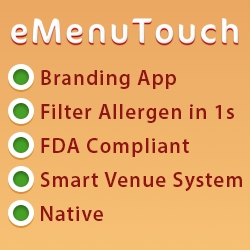 Los Angeles, CA, May 08, 2018 –(PR.com)– eMenuTouch is an in-house, native, multi-platform and multi lingual software system. It is designed specifically for the hospitality industry. Problems solving for human civilization is one of the primary aims of the venture. eMenuTouch transforms all hospitality venues into Smart Venues.
Supported venues: Stadiums and Arenas, Hotels, Restaurants, Catering, Fast Foods, Drive-ins, Food Truck and all other Hospitality Venues.
FDA compliance date May 7, 2018, rule requires disclosure of certain nutrition information for standard menu items in certain restaurants and retail food establishments.
eMenuTouch software system implements not only FDA legislation and rules, but also EU FIC Food Information and beyond. One tap filters Allergens ingredient from all menus in one second. Guest taps on the menu item image to read ingredients, nutrition facts and pricing, taps "eye" on device screen for lifestyle preferences and allergens ingredient to filter all menus in a second.
Menu items displaying images, ingredients, nutrition facts and lifestyle preferences a click on "eye" on device screen. Queensway welcomes all food and drinks venues and other relating establishment to join this mission to provide healthy food and drinks to all guests. eMenuTouch includes Back Office Manager to upload unlimited Food and Drinks multiple categories, sub-categories, images, ingredients, nutrition facts, lifestyle preferences and allergens filter, wine, ale, alcohol descriptions, size, vintage, tone, appellation, varietal, alcohol contents, sugar, barrel, acidity and food pairing.
The system minimizes the employee stress and reduces delivery time in half due to in-remote and realtime, consisting of pre-ordering with date and time to pick-up, additional notes, contact details, taping on active order to add or remove before checkout, payment method, checkout, order confirmation and receipt on guest device.
This project is based on the idea of creating jobs and business establishment opportunities for all in the global market. The hospitality business is not well established and most of the restaurants and other venues do not have even standard websites. On the other hand, catering services are dependent on online ordering and delivery systems which cannot fully guarantee the contents of their meal, whereas eMenuTouch system provides the guest ingredients, nutrition facts side by side and a tap on device screen "eye" filters allergens from all menus in one second. About 30 percent of children with food allergies are allergic to more than one food. Fatal reactions can happen at any age, but teenagers and young adults.
Multi Smart Venues Extension provides the possibility to double the sale of all hospitality venues with additional components and guest services. For example: Casual dining restaurant can be extended to catering, drive-in, Fast Food, Food Truck and vice versa.
All hospitality establishments whether single unit or chains may test the eMenuTouch system on any venue from food truck to hotel in-room or fine dining restaurant. Queensway provides 60-day trial to all types of venues.
eMenuTouch can be deployed to client's servers. Queensway Group AB provides the following types of licensing: ESL Embedded Software License, IaaS, SaaS method or Pay-as-You-Go model.
If interested, please send mail and Queensway will forward a full introduction along with demo videos and demo applications.
Brief Introduction video: https://videos.emenutouch.com/mfs/
Contact Information:
Queensway Group AB
Ather Khan
468-716-3987
Contact via Email
http://www.queensway.se
Nikolay Ivanov,
[email protected]
Read the full story here: https://www.pr.com/press-release/753053
Press Release Distributed by PR.com